established for over 80 years,
delivering today's business accountancy needs...
Assured Accountancy Package
For small businesses that just want to stay legal & save tax
Accounting Services Provided
| | |
| --- | --- |
| Preparation & Review of Annual Accounts | |
| Company/Partnership Tax Return | |
| Personal Tax Return | |
| Registered Office & Annual Return | |
| Monthly Payroll – RTI Compliant (up to 2 employees) | |
| Free Xero Software (worth £20+VAT per month), Set-Up & Training Webinar | |
Perfect for Small Businesses Simply Looking for Compliance
Numeric Accounting offers our Assured Accountancy package. The package is perfect for small businesses who have their day-to day accounts under control, but want to be sure they keep compliant with the authorities. A simple compliance mistake could end up costing you time and money.
Accounting for small business
Are you a small business owner worried about the legal requirements for your annual accounts and tax returns? Are you concerned about getting your monthly payroll right? Perhaps you want to make sure you take full advantage of the tax laws to enable you to pay as little tax as possible?
At Numeric Accounting we understand the different needs of businesses as they grow, which is why we have developed a range of accounting packages to make sure you get the best support and the best deal for your stage of growth. Our Assured Accountancy package is perfect for small businesses concerned with compliance. Let us help you tick all the boxes, so you don't have to worry.
Assured Accountancy Package
Stay compliant with our Assured Accountancy package. As a small business with one or two staff you'll feel you have your finger firmly on the pulse, but as you spend time getting your business to grow it's easy to forget about the accounting deadlines that matter.
Our Assured Accountancy package will take care of all of the important deadlines so you don't have to. From the preparation and review of your annual accounts, to your company and personal tax return, and even your payroll, our expert team will give you peace of mind that legal returns are done when they are supposed to be.
Perfect compliance for small businesses in Salisbury
With one of our offices located in Salisbury, we are a local accountancy firm dedicated to giving the small businesses of Salisbury the support they need to stay compliant with the authorities.
We know how busy small business owners are getting their ideas off the ground, so it's easy to get side tracked with the day-to-day and forget all about an important return.
In any case, spending excessive time worrying about deadlines doesn't make good business sense. Let us take the strain out of your accounting. We offer the perfect accounting solution for small businesses in Salisbury with our low monthly fee covering specialist accountancy services and advice to keep you compliant all year round.
Perfect accounting for small businesses in Southampton
Our office in Dibden is perfectly placed for providing your Southampton small business with the accountancy support you need. Making correct business decisions at the start of your business is essential for your success. With our free Xero software you'll have your finger on the financial pulse day and night, and with our Assured Accountancy Package you won't have to worry about your annual tax and company returns.
Getting an accountant is often dismissed as a luxury small businesses can't afford, but our Assured Accountancy package keeps money in your pocket with the peace of mind that the important returns get done on time. At Numeric Accounting we understand that the whole point of having an accountant is to add value to your business. We'll deal with your business set-up and registration and make sure your tax returns are kept up to date.
Why choose us?
Numeric Accounting offer cost-effective professional accounting solutions to small businesses in Salisbury and Southampton. With our fixed-fee accountancy services there are no hidden costs. You will have complete peace of mind that your accounts are compliant all year round. A dedicated accountant will handle all of your tax returns, monthly payroll and more. We'll make sure your business is compliant with all accounting regulations so you can get on with the business of making your company grow.
FAQs
Is the Assured package right for my business?
Our Assured package is ideal for smaller businesses that want to make sure everything they do is fully compliant with rules and regulations. We also offer our New Venture package for startups, Assured Plus for growing businesses, and Ultimate package for large organisations.
Can I easily switch to Numeric Accounting?
Yes, switching accountants is easy. Whether you currently manage all of your accounts, have an in-house accountant or you work with a separate accounting firm, we can handle all of the details when it comes to transferring to our services.
Get in touch
Numeric Accounting has offices in Salisbury in Wiltshire, and Dibden in Hampshire. We offer a full range of professional accountancy services to small businesses in Salisbury, Southampton and across the UK. If you want peace of mind that your important returns are done on time, get in touch with our expert team of accountants today. Call us now on 01722 334888 (Salisbury) or 023 8084 4242 (Southampton) and one of our team will help you with all of your accountancy needs. Alternatively, drop us an email at salisbury@numericaccounting.co.uk or dibden@numericaccounting.co.uk and we will get back to you as soon as we can.
Other Packages & Services
If there are services you would like to add or remove from our standard packages or you require a more bespoke accountancy package that better suites your needs then we are more than happy to provide you a separate quotation.
For more information and to discuss the package and services that best suit your business or organisation, please get in touch.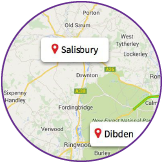 FIND US
"The whole point of having an accountant is to add value to your business…"